Man of La Mancha
About The Show
Written by Dale Wasserman
Music by Mitch Leigh and Lyrics by Joe Darion
Original Production Directed by Albert Marre
Directed by Peter Rothstein
"Man of La Mancha is a triumph of creative imagination" - New York Post
"Rothstein bring the themes of human dignity and desperate imagination into sharp relief" - City Pages
Considered by many to be one of the best musicals of all time, MAN OF LA MANCHA is brilliantly reimagined by celebrated director Peter Rothstein, who immerses us in Miguel de Cervantes's retelling of Don Quixote and his quest. This epic and poignant journey celebrates the perseverance of one man who refuses to relinquish his ideals and who is determined to see life not as it is, but as it ought to be.
The winner of five Tony Awards®, including Best Musical, and featuring a soaring score, including "Man of La Mancha (I, Don Quixote)" and one of theatre's most beloved songs, "The Impossible Dream," this classic musical celebrates the power of theatre, the bravery of holding strong to our dreams, and the resilience of imagination.
Run time: This performance is 1 hr and 47 mins with no intermission.
Please note: This performance contains mature content and theatrical smoke.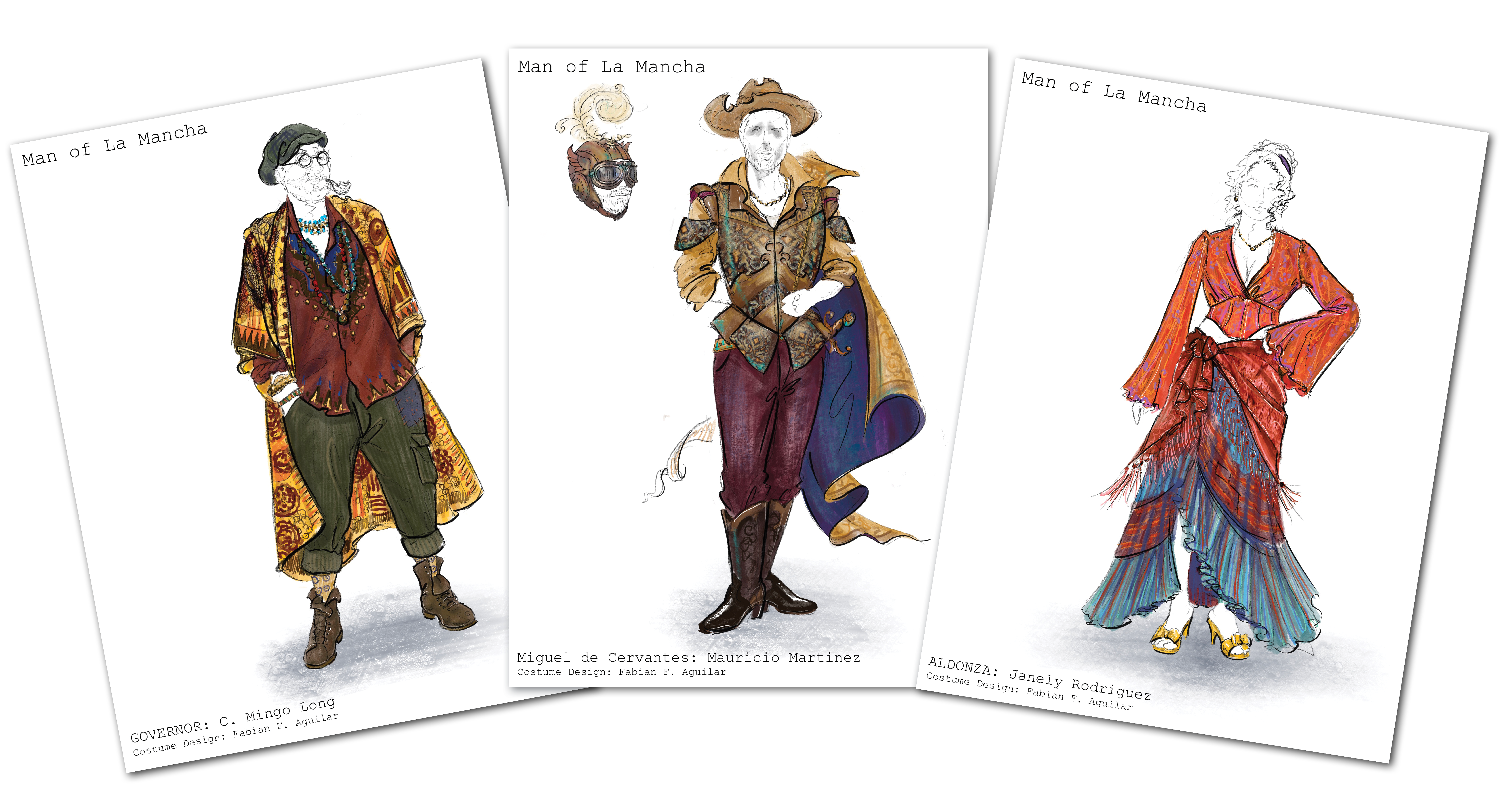 Related Links

Events | Offerings

In the News

Creative Team Bios

FABIAN FIDEL AGUILAR, he/him FIRST SEASON (Costume Design) attended the Yale School of Drama for his MFA and Boston University (BFA) to pursue theatrical costume design. Credits include Three Sisters, Twelfth Night (Two River Theater) Naked Mole Rat Gets Dressed, Max Makes a Million, Winnie the Pooh (Alliance Theater); Wait Until Dark, Queen of the Night, Slow Food (Dorset Theater Festival); Straight White Men, Mlima's Tale, In the Heights, Man of La Mancha, Romeo and Juliet (Westport Country Playhouse); Mother Road (PCPA); Afterglow, Safeword (Midnight Theatricals); Recent Alien Abductions (Play Co.); ¡Bienvenidos Blancos! or Welcome White People! (Team Sunshine, Philadelphia), A View from the Bridge, Seven Spots on the Sun, set and costume for The War Boys (NYC); Sotto Voce (Portland Stage); Midsummer,; The Moors (Yale Repertory Theater world premier).

DRAYTON ALEXANDER, he/they FIRST SEASON (Dramaturg) is thrilled to be joining Asolo Rep this year as literary associate, following a decade working in play development in New York, London, and Singapore. Some dramaturgy highlights include world/NYC premieres of Taylor Mac's The Fre, Kristiana Rae Colón's good friday, Nsangou Njikam's Syncing Ink, Idris Goodwin's Hype Man: a break beat play, Geraldine Elizabeth Inoa's Scraps, The Q Brothers' Liz Estrada, and Catya McMullen's Locked Up Bs. As artistic producer of Serials @ The Flea, he led the Serials Writers Room for two years, and he has developed plays by Amy Ng, Tuyen Do, and Joyce Julie Lee for New Earth Theatre. Drayton has received an Olwen Wymark Award for the Writers' Guild of Great Britain and holds an MFA from NYU Tisch Asia.

PAUL BEHRHORST, he/him FIRST SEASON (Assistant Stage Manager) is an AEA stage manager, a theatre safety professional, and an accessibility consultant. He has worked in multiple theatres in Colorado and Oregon, including the Oregon Shakespeare Festival and the Denver Center for the Performing Arts. He recently moved to New York to start ConsultAbility with his wife Jenna. ConsultAbility is an accessibility consulting company focusing on creating a safe and inclusive environment for all disabled theater artists.

CAT BRINDISI, she/her FIRST SEASON (Choreographer) is co-founder of 7th House Theater creating new musicals at the Guthrie Theatre (Jonah & the Whale, The Great Work, & The Passage). The Southern: Sounds Inside. Cedar Summerstock: Beehive. Actor: The Guthrie (12 shows since 2014 & upcoming Into The Woods), New World Stages: NAMT 2017; Signature Theatre: NYMF 2019; St. Louis Rep; Alabama Shakes; Mixed Blood; Theater Latté Da, The Ordway. Thank you to MOLM Associate, Laura Park. Cat is based in NYC and gives love and credit to Peter Rothstein who has given her an entire career, and a husband, David Darrow (whom Peter cast opposite Cat in his production of Spring Awakening). Her and David now share a 2-year-old son named Henry. Thanks for a beautiful life, Peter!

JOE DARION (Lyrics) worked in every field in which words are put to music, from popular songs to works for the concert stage. His opera based on Don Marquis' immortal characters Archy and Mehitabel was turned into the Broadway musical Shinbone Alley, for which Mr. Darion supplied the book and lyrics. Popular songs for which he has supplied the lyrics, including "Ricochet," "Changing Partners" and "Midnight Rain," have sold in the tens of millions. One of the most popular has been "The Impossible Dream," the hit song from Man of La Mancha, which won Darion the 1965-66 Tony Award for the best lyrics of the Broadway season. He also supplied the lyrics for the Broadway musical Illya Darling, adapted from the film Never On Sunday. In addition to the Tony, he has received the Drama Critics Circle Award, the Outer Critics Circle Award, the Gabriel Award, The Ohio State Award, and the International Broadcasting Award.

LINDA DIGABRIELE FIFTIETH SEASON (Managing Director) has served as Asolo Rep's managing director since 1989. Prior to that, she held other positions with Asolo Rep, including director of touring programs and stage manager. During her 12-year tenure with the touring programs, Linda orchestrated 26 regional and national tours for Asolo Rep's mainstage and educational companies. She has served several terms on the board of directors for the League of Resident Theatres (LORT), a national organization of regional not-for-profit professional theatres. Linda has been an advisory panel member for the National Endowment for the Arts and, for five years, the John F. Kennedy Center's Theatre for Young Audiences. She is a past president of the Florida Professional Theatre Association and has served the Florida Division of Cultural Affairs as a member of various panels including the Grant Awards Task Force, Theatre Grants, Arts in Educations Grants, and the Cultural Institution Programs. Other board appointments include ASSITEJ/USA, an international theatre organization for young audiences, the Florida Cultural Alliance, and the Arts and Cultural Alliance of Sarasota County. A graduate of Florida State University, Linda's professional theatre experience includes acting and directing. She is honored to have been recognized by the Richard G. Fallon Award for Excellence in Professional Theatre, the Florida Theatre Conference Lifetime Achievement Award, and the Arts and Cultural Alliance Leadership Award.

MARCUS DILLIARD FIRST SEASON (Lighting Design) has designed for theatre and opera across North America, most recently at PlayMakers Repertory Theatre as the lighting designer for Blues for an Alabama Sky, Atlanta Opera's Don Giovanni, Pittsburgh Opera's Rusalka, Theater Latté Da's Christmas at the Local and Sugar in Our Wounds at Penumbra Theatre. He has designed numerous productions for Minnesota Opera, the Guthrie Theater, American Repertory Theatre, Intiman Theatre, and Actors Theatre of Louisville. He has also designed for the Spoleto Festival (Italy); the Athens Festival, Lyric Opera Kansas City, Portland Opera, Opera Philadelphia, Vancouver Opera, Opéra de Montréal and Canadian Opera Company. Marcus is a graduate of Boston University's School for the Arts and a member of United scenic Artists Local USA 829.

MICHAEL DONALD EDWARDS EIGHTEENTH SEASON (Producing Artistic Director) has served as producing artistic director of Asolo Rep since 2006. He was previously the associate artistic director of Syracuse Stage and served as artistic director of Shakespeare Santa Cruz. A Garland Award and Drama-Logue Award winning director, Michael has directed at Cleveland Play House; Indiana Repertory Theatre; Geva Theatre; Syracuse Stage; The Shakespeare Theatre; San Jose Rep; Opera San Jose; the Oregon Shakespeare Festival; the Old Globe in San Diego; Virginia Stage Company; the Virginia Opera; the State Theatre of South Australia; Opera Australia; Victoria State Opera; and the Metropolitan Opera, where he staged revivals of Aida, The Barber of Seville, Porgy and Bess, and Phillip Glass' The Voyage. In previous seasons for Asolo Rep, Michael has directed Disgraced; Our Betters; The Grapes of Wrath; Clybourne Park; My Brilliant Divorce; Hamlet, Prince of Cuba; Las Meninas; La Bête; The Last Five Years; The Life of Galileo; Perfect Mendacity; The Winter's Tale; Equus; A Tale of Two Cities; Darwin in Malibu; Nobody Don't Like Yogi; Amadeus; The Smell of the Kill and, most recently, The Crucible.

ANNIE ENNEKING, she/her FIRST SEASON (Violence and Intimacy Choreographer) is a fight director, musician, and former actor, hailing from Minnesota. Her work in these various capacities has been seen on nearly every stage in the Twin Cities. Stage violence highlights include To Kill a Mockingbird and Raisin in the Sun at the Guthrie Theater, Ragtime and Man of La Mancha at Theater Latté Da, and Romeo and Juliet and Hamlet at The University of Minnesota/Guthrie BFA Training Program (where - as a recognized Full Instructor with Dueling Arts International - she is also a teaching artist). Annie is a 2010 Playwright's Center McKnight Theater Artist Fellow and fronts the rock band Annie and the Bang Bang. This is her Asolo Rep debut.

GREG EMETAZ, he/him SECOND SEASON (Projection Design) is a filmmaker and video designer, excited to return to Asolo Rep after designing Murder on the Orient Express and The Three Musketeers. Stage: Champion, Fire Shut Up in My Bones (The Metropolitan Opera), La Fanciulla del West National Center for Performing Arts Beijing, Tristan und Isolde Croatian National Theatre. World premieres: Bel Canto (Chicago Lyric Opera), Dolores (Claiborne San Francisco Opera), Champion, An American Soldier, Shalimar, 27, The Golden Ticket (Opera Theatre of Saint Louis). Screen: feature film Camp Wedding, short films: Bowes Academy, Spell Claire, Get the F K Outta Paris!, Death by Omelette and webseries Do it Yourselfie co-directed with Amanda DeSimone. He's also created behind-the-scenes documentaries for Julie Taymor's The Tempest & Spider-Man: Turn Off the Dark. MINORapocalypse.com

MICHELLE HART, she/her TWENTY-FIRST SEASON (Resident Hair/Wig & Make-up Designer) designs for Asolo Repertory Theatre and FSU/Asolo Conservatory. Other credits: Sarasota Ballet, Palm Beach Drama Works, freeFall Theatre, Urbanite Theatre, Florida Studio Theatre, Westcoast Black Theatre Troupe, Banyan Theatre, Ruth Eckerd Hall, Venice Theatre, Dorset Theatre, Barrington Stage, and Open Stage Theatre. She has also done hair and/or make-up for Joan Rivers, Doris Roberts, Martin Short, Jane Russell, Arlene Dahl, Soledad Villamil, Jane Pauley, Richard Dreyfuss, Castille Langdon, Christopher Higgins, Mary Mara, Heather Robb, Lauren Sweetser, Justin Long, Paul Downs, Douglas Sills, and Nia Hills. Music videos: "Second Chance" by Shinedown, "Reverse Cowgirl" by T-Pain. Film/TV: Lady of the Manor; Paradise, FL; and The Real Stephen Blatt.

MICHAEL HOOVER SECOND SEASON (Scenic Design) has previously designed at Asolo Rep in 2018, working with Peter Rothstein on the scenic design for Asolo Rep's production of Ragtime. Michael has designed scenery with Peter over the past 25 years at Theater Latté Da in Minneapolis. He has also designed at many other theaters in the Twin Cities, including the Guthrie Theater, Six Points Theater, Minnesota Opera, History Theatre, Mixed Blood Theatre, Jungle Theatre, Girl Friday Productions and Yellow Tree Theatre. Outside of Minnesota, Michael has designed at the 5th Avenue Theatre (Seattle, WA), Zach Theatre (Austin, TX) and The Naples Players (Naples, FL). In addition to his freelance career as a Scenic Designer, Michael is on staff at the Guthrie Theater as the Head of Scenic Art.

JENNY KIM-GODFREY she/her THIRD SEASON, 2022-2023 RUBY E. AND CAROLE CROSBY FAMILY FOUNDATION GUEST MUSICAL ARTIST (Music Director and Additional Arrangements; Conductor) is a Korean American Music Director, Voice Coach, and an Award-Winning Opera Singer. Jenny has performed throughout the world as a soloist, and frequently concertizes in the Soprano-Guitar duo Corda Voce with her husband Dr. Jonathan Godfrey. Jenny recently music directed/conducted/orchestrated Cabaret at Peterborough Players and is a Resident Music Director with Norwegian Cruise Lines. She also served on the Voice and Musical Theater Faculty at University of Albany, University of Tampa, and Sehan University (Korea). Jenny holds her Master's in Vocal Performance (Opera) and minor in Choral Conducting with an outside field in Arts Administration from the Indiana University Jacobs School of Music. Jenny is a proud immigrant from South Korea and is grateful to return to Asolo Rep on the other side of the table! Full bio: JennyKimGodfrey.com @JennyKimGodfrey

MITCH LEIGH (Music) was a composer, producer, director, and businessman from Brooklyn. He is best known as the Tony Award-winning composer of Man of La Mancha, for which he also won the Drama Critics Circle Award and the Contemporary Classics Award from the Songwriter's Hall of Fame for "The Impossible Dream." In 1957 he formed Music Makers, Inc., a radio, and television commercial production house; with Leigh as its creative director, the agency won every major award within the advertising industry. He was also nominated for a Tony Award for directing Yul Brynner's farewell tour of The King and I, which he also produced. In the last decade of his life, Leigh began developing Jackson 21, a community for nice people in Ocean County, NJ. He studied with Paul Hindemith at Yale School of Music, from which he received his bachelor's and master's degrees, and he was the first recipient of the Yale Arts Awards for Outstanding Achievement in Musical Composition.

VICTOR MEYRICH FIFTY-FOURTH SEASON (Director of Production & Operations) is a graduate of Carnegie Tech and worked at New York Shakespeare Festival, Brandeis, University of California Institute of Repertory, APA, American Conservatory Theater, and again in New York. As head of production and technical staffs, he is responsible for the overall technical operation of Asolo Rep and its facilities. He wrote the architecture program for both the Center for the Performing Arts and the Koski II expansion and is the owner's representative on both projects. He has been a member of the Asolo Rep family since 1969.

FRANK J. PAUL FOURTH SEASON (Puppet Design) graduated from The University of Illinois Urbana-Champaign in 2004. Since, Frank has been singing and performing on stages across the country as a proud member of Actors Equity. He spent seven years in Chicago building scenery and props for countless theatrical and commercial productions, and 3 years in NYC as the Master Carpenter and lead installer building Holiday Windows for Fifth Avenue stores such as Lord and Taylor, Saks Fifth Avenue, and Tiffany's. In Sarasota, Frank was the Head of Props at the Opera, and has been Senior Props Master at Asolo Rep since 2019.

GABY RODRIGUEZ, she/her SECOND SEASON (Cultural Competency Coordinator) is a director, dramaturg, teacher, and storyteller from Santiago de Cuba. She has directed at Asolo Repertory Theatre, Theatre Nuevo, The Center of Creative Arts in St. Louis, TheatreWorks USA, The University of Oklahoma, Webster Conservatory, and Shakespeare Festival STL. As an Assistant Director, she has worked at Great River Shakespeare Festival in Minnesota, at The Repertory Theatre of STL, and at Theatre Under the Stars in Houston, TX. She has also worked as a translator and educator in multiple theatres, including the MUNY, Asolo Rep, and Metro Theatre Company. Her work focuses on adapting classic stories for today and she has a passion for bringing more Latin representation to the stage.

CÉLINE ROSENTHAL, she/they SIXTH SEASON (Local Casting; Associate Artistic Director) is a Tony-nominated producer and "Key" member of The Ring Of Keys and New Georges Affiliate Artist. They are in their sixth season at Asolo Rep, having directed Camelot, The Lifespan of a Fact, Midsummer Night's Dream, The Tempest, and co-directed We Need A Little Christmas with Michael Donald Edwards. Céline has developed new work with NYMF, The New Georges, The Musical Theatre Factory, The Kidoons, Tamasha, and National Queer Theatre, as well as creating Asolo Rep's premiere new work series, Asolo Rep: Ground Floor. Other Recent Projects: Trayf (New Rep); Drowning in Cairo (N.Q.T); A Doll's House, Spike Heels (Studio Theatre); Motherf**ker with the Hat (FSU/ Asolo Conservatory); the award-winning short film Wildflower. Céline was a member of the 2018/19 MTC Directing Fellowship class, and was awarded an SDC Observership and Asolo Rep Directing Fellowship. They are an alumnus of the Commercial Theatre Institute, BMI Lehman Engel Workshop, NYU Tisch (BFA), and The New School for Drama (MFA). celinerosenthal.nyc

PETER ROTHSTEIN, he/him FIFTH SEASON (Director) is thrilled to return to Asolo Rep where he staged Ragtime and Sweeney Todd. Rothstein works extensively as a director of theatre, musical theatre, opera, and new work development. He is the Founding Artistic Director of Theater Latté Da, a Minneapolis-based company dedicated to adventurous music-theatre. Since the company's inception in 1992, Rothstein has directed 82 main-stage productions, including 13 world premieres. Other collaborations include the Guthrie Theater, Children's Theatre Company, Ten Thousand Things, The 5th Avenue, Minnesota Opera, Boston Lyric Opera, Florida Grand Opera, and most recently the world premiere of The Life and Death(s) of Alan Turing with Chicago Opera Theater. He holds degrees in Music and Theater from St. John's University and an MFA in Directing from the University of Wisconsin- Madison.

NIA SCIARRETTA, she/her ELEVENTH SEASON (Production Stage Manager) Favorite Asolo Rep credits include stage manager for Knoxville, The Great Leap, The Sound of Music, Into the Breeches, The Music Man, Sweeney Todd, Sweat, Shakespeare in Love, Roe, and the 2020-21 Terrace Stage season, as well as assistant stage manager for Rhinoceros, Guys & Dolls, All the Way, South Pacific, and Hero: The Musical. Previous off-Broadway credits include work on Jesus Hopped the A Train, In the Blood, and The Wayside Motor Inn at the Signature Theatre. Nia has also worked with Creede Repertory Theatre, the Hangar Theatre, the Shakespeare Theatre of New Jersey, the Flea Theatre, and Penguin Rep.

JUSTIN STASIW he/him THIRD SEASON (Sound Design) is an NYC-based sound designer and engineer. Broadway (as associate): Moulin Rouge!, Beetlejuice, Frozen, Something Rotten!, Side Show, It's Only A Play. Off-Broadway: The View Upstairs, Songbird. Regional: A Christmas Story (5th Ave), Jasper In Deadland (5th Ave), How to Succeed… (5th Ave), Paint Your Wagon (5th Ave, Ordway), The Secret Garden (STC, 5th Ave), Josephine (Asolo Rep), Beatsville (Asolo Rep). International: Sweeney Todd (Manila, Singapore), Jersey Boys (Manila), Ghost (Manila). Justin is a proud member of IATSE and of USA/829.

DALE WASSERMAN (Playwright) wrote for theater, television, and film for more than 50 years and is best known for the musical Man of La Mancha, a multiple Tony Award winner. He also wrote the stage play One Flew Over the Cuckoo's Nest, based on Ken Kesey's novel, which has won several Tony Awards. Both shows continue to be produced nationally and internationally with an estimated 300 productions a year. In January 1979, Dale met Martha Nelly Garza, who became his wife, loyal partner, and loving companion. More than once, Dale commented that Martha Nelly was the best thing that ever happened to him (aside from MOLM) and that it was their 30-year partnership that had been the greatest contribution to extending his life and his talents to age 94. Together, they worked on numerous musicals and several new plays which can be found on his website, dalewasserman.com.

BINDER CASTING (New York Casting) was founded 40 years ago and is now a part of RWS Entertainment Group. The office has cast 150+ Broadway, Off-Broadway, and National Touring productions, in addition to countless national and international projects spanning both stage and screen. Binder is a proud eleven-time recipient of the Artios Award for Excellence in Casting and is a supporter of Broadway Cares/ Equity Fights AIDS. The office holds a deep respect for their legacy, as well as a commitment to growth. To facilitate this growth, Binder has partnered with the Disruptive Equity Education Project (DEEP) to dismantle harmful practices and to carry this work into their organization, client relationships, and audition rooms. They acknowledge that the work is on-going and strive to do better. bindercasting.com

*Members of Actors' Equity Association, the Union of Professional Actors and Stage Managers in the United States.

Cast Bios

REESE BRITTS, he/him FIRST SEASON (The Barber/Muleteer) is elated to be making his Asolo Rep debut with such a powerful production. Select credits include Merrily We Roll Along, Twelve Angry Men, Jelly's Last Jam (Theater Latte Da), Beauty and the Beast, Smokey Joe's Cafe, Mamma Mia! (The Ordway), South Pacific (The Guthrie), How the Grinch Stole Christmas (Children's Theatre Company), The Music Man (Chanhassen Dinner Theatres). Training: University of Minnesota Duluth. Immense gratitude to Peter and the whole Asolo Rep team. Much love to Ryan, my family, and my amazing chosen family. reesebritts.com

SYDNEY CHOW she/her FIRST SEASON (Antonia) is happy to make her Asolo Rep debut! Some of her favorite credits include Camelot (The Muny), Oliver (Maltz Jupiter Theatre), White Christmas (Engeman Theater), Hair (Forestburgh Playhouse), and Spamalot (Northern Stage). She is a 2021 graduate of Wagner College Theatre & Dance. Rep: Pantera/Murphy the Agency. Follow her @ sydchow! sydney-chow.com

AARON DE JESUS, he/him FIRST SEASON (Sancho Panza) is thrilled to be in this production. Aaron most recently completed a 10-year run with Jersey Boys where he played Frankie Valli. Some other select theatre credits include Disney's The Lion King (Timon), Spamalot (Patsy), Wicked (Averic, Boq u/s), Peter Pan (Peter), Little Shop… (Seymour), …Forum (Pseudolus), El muerto disimulado (Clarindo), The Crucible (Cheever). On screen credits include City on a Hill, Law and Order SVU, The Last OG, Touched by an Angel. He is the TV Spokesperson for Elderplan in NYC. Special thanks to God, Gail, Lydia, Mom, Dad, and Dave at Hoff. Instagram: @aaron.dejesus Website: aarondejesusonline.com

JAVIER IGNACIO, he/him FIRST SEASON (Pedro) was in the recent Broadway revival of Company starring Patti LuPone and Katrina Lenk. After originating the roles of Harry Houdini and Dog Boy in the 2014 Broadway production of SideShow, Javier toured the country in Fiasco Theatre's Into the Woods (Baker/ Mysterious Man/ Rapunzel's Prince u/s). He has performed at The Kennedy Center, The La Jolla Playhouse, and Music Theater Wichita, as well as Off-Broadway in Fiasco Theatre's Twelfth Night (Sebastian),The Public/PublicWorks' Twelfth Night (Standby), and New York City Center's Encores! Call Me Madam. Javier studied Musical Theatre at Wichita State University and is a proud AEA member. @iamjavierignacio

C. MINGO LONG FIRST SEASON (The Governor/The Innkeeper) Broadway: South Pacific, Purlie and House of Flowers. National tour: Parade and Les Misérables. Off-Broadway: Liberty the Musical. Favorite roles include Coalhouse Walker (Ragtime), Delray (Memphis), Andrew Carnes (Oklahoma), Barbershop Quartet (The Music Man), Papa (Starlight Express), Tonton (Once on the Island), Sportin Life (Porgy and Bess), Jake (Side Show), Pa (The Color Purple). Thanks to my agent, Craig, at Avalon Artists for their support and trusting my talent, my partner, Bob, for putting up with me, and my best friends Maestro Jalmari, Dorothy, and Frank for all their help. Facebook/Instagram: Mingo Long.

MAURICIO MARTÍNEZ, he/him FIRST SEASON (Miguel de Cervantes/ Alonso Quijana/Don Quixote) Mexican Emmy-winning actor and recording artist. Broadway: On Your Feet!. Off Broadway: Children Of Salt (NYMF), SEIS (Teatro Círculo). Regional: Andrew Lloyd Webber's Unmasked (PaperMill Playhouse), Evita (Kansas City Repertory Theater) Rodgers & Hammerstein's A Grand Night For Singing (Goodspeed Opera House). Mexico City: Disney' Beauty and the Beast, Saturday Night Fever, Jesus Christ Superstar, A View From The Bridge, Sweet Charity, The Drowsy Chaperone, among others. TV: El Vato (NBC), Señora Acero (Telemundo), over 10 telenovelas with Televisa (Univision), Kennedy Center Honors, The Talk (CBS), Gershwin Prize, One Voice (PBS). Music available on all platforms. Follow @martinezmau

BRIAN KIM MCCORMICK, he/ him FIRST SEASON (The Padre/ Muleteer) is thrilled to make his Asolo Rep debut with this beautiful staging. He previously worked with Peter Rothstein on the world-premiere of 12 Angry Men: A New Musical at Theater Latté Da. Brian is based in Los Angeles and has worked with companies around the country including Pan Asian Rep, Theater Mu, Ammunition Theatre, Quantum Theatre, TheatreSquared, South Coast Rep, Oklahoma City Rep, The Olney, and NYTW. As a voiceover artist he can be heard on shows including Squid Game and Pokémon, video games like Wo Long: Fallen Dynasty, and as the audiobook narrator of Stacey Lee's Winston Chu vs. The Whimsies.

CATHY NEWMAN, she/her FIRST SEASON (Maria/The Housekeeper) is thrilled to be joining the company of Man of La Mancha! She hails from Southern California and was last in Florida at The Gulfshore Playhouse in a 10-person version of My Fair Lady. She has performed in eight national tours, traveling throughout the United States, Canada, Japan, Korea & China. Highlights include U.S. and Chinese premiere of Les Misérables (with Colm Wilkinson); Lincoln Center's South Pacific, The National Theatre of Great Britain's My Fair Lady, La Cage Aux Folles, and Deaf West Theatre's critically acclaimed production of Big River. Thank YOU for coming out to support live theatre!

RODOLFO NIETO, he/him FIRST SEASON (The Duke/Dr. Carrasco/ Muleteer) is excited to make his Asolo Rep debut. Based in Minneapolis, his theater credits include multiple appearances with Theater Latté Da, including Colline in La Bohéme, Count Carl- Magnus Malcolm in A Little Night Music, Czolgosz in Assassins, and as an ensemble member of All is Calm. Other notable roles include Dr. Jafar Berensteiner in A New Brain (Artistry), and Carlos/ Rygor in Dirty Business (History Theater). As a composer, Rodolfo has written a number of songs and arias, many of which have reflected his Hispanic heritage. They can be found on his YouTube channel.

PETER S. RAIMONDO, he/him FIRST SEASON (Muleteer) is a third-year FSU/Asolo Conservatory student. He is from Buffalo and holds a BFA in Theatre Performance from Niagara University. Peter made his Mertz Theatre debut this season as King Louis in The Three Musketeers and understudied Looking For Ithaca, Cabaret, and Silent Sky. His Conservatory credits include Belleville (Zack), The Learned Ladies (Clitandre), Twelfth Night (Antonio), and Asolo Rep's BardWired: Much Ado About Nothing (u/s perf., Claudio). Peter is grateful for the loving support of his family and thrilled to be alongside his classmates, celebrating their first season with Asolo Rep.

JANELY RODRIGUEZ, she/they/he FIRST SEASON (Aldonza) is thrilled to be making her debut with Asolo Repertory Theatre. Janely hails from Miami, FL and holds a B. F. A in Musical Theatre from Brenau University. They've had the pleasure of working with a number of theaters in the Twin Cities including the Children's Theatre Company (How the Grinch Stole Christmas, Diary of a Wimpy, Annie, Cinderella); Theater Latté Da (Hello, Dolly!); Ten Thousand Things Theater Company (Iphigenia at Aulis); and Artistry Theater (Shrek the Musical, Songs for a New World).

EDWARD STAUDENMAYER, he/him FIRST SEASON (The Captain/ Muleteer) Broadway: Wonderland, Girl from the North Country, Martin Short: Fame Becomes Me. Tours: Anastasia, Phantom of the Opera, Anything Goes, Beauty and the Beast, Scarlet Pimpernel, Joseph… Other: 28 years with Forbidden Broadway (3 Cast Recordings) South Pacific (Guthrie), Spamalot (Vegas), Spamilton, Man of La Mancha, Addams Family, Something Rotten, Mamma Mia, Pageant, Children of Eden, 1776, On The 20th Century, Jane Eyre, Noises Off, A Room With A View, Cats (Hamburg) Ed's currently in the Focus Feature A Thousand and One. Nominations: Helen Hayes, Barrymore, National Theater Award, Music Center Spotlight Award Finalist, and Carol Burnett Award recipient at UCLA.

SYDNEY STORY, she/her FIRST SEASON (Summoned Person) is incredibly excited to embark on this final leg of her MFA journey. Her favorite roles include Olive in The 25th Annual Putnam County Spelling Bee, Dorothy Brown in Thoroughly Modern Millie, and Maria in Love's Labour's Lost. She has also been fortunate enough to sing backup for Kristin Chenoweth and work on a new musical with Bandstand's Richard Oberacker. She would like to thank her mom, stepdad, and best friends for all their support.

JERALD WHEAT, he/him FIRST SEASON (The Guard) is grateful to be back on the Mertz stage this season. He was last seen as the Duke of Buckingham in The Three Musketeers. Jerald is a member of the 2023 graduating class of the FSU/Asolo Conservatory for Actor Training. He would like to thank his family and Asolo Rep's administration for this opportunity.

BEVIN BELL-HALL, she/her FIRST SEASON (u/s Maria/The Housekeeper, Summoned Person) is thrilled for her Asolo Rep debut! NYC credits: Swingtime Canteen at Cherry Lane, Everyone's a Hero… at Theatre Row, and original musicals at TNC. Regional: A Doll's House, Part 2 (Nora) at CRT, The Hilberry's Way of the World (Wishfort) at Lincoln Center Library, and Princess and the Pea at Santa Cruz Shakespeare. She holds an MFA from Wayne State, is an award-winning documentarian, and puppetmaster for Shadow Box Theatre. bevinbellhall.com

CHRISTIAN DOUGLASS, he/him FIRST SEASON (u/s The Captain/ Muleteer, The Guard) is overjoyed to return to the Mertz stage and is a third-year student at the FSU/Asolo Conservatory. Credits include Max in Cabaret, Peter in Silent Sky this season, and Cinderella's Prince/ Wolf in Into the Woods, Pharaoh/Jacob in Joseph and the Amazing Technicolor Dreamcoat, at The Bigfork Summer Playhouse. He enjoys long car rides and longer walks on the beach. Big thanks to Jolene, Mom, Dad, Ryan, Katelyn, and Aunt Rose.

PEDRO KAʻAWALOA, he/him FIRST SEASON (u/s The Duke/Dr. Carrasco, The Padre/Muleteer) is a Harvard graduate, performer, director, teacher, and coach. Performer: The King and I national tour (The King), The Fantasticks (El Gallo), Cinderella (Jean-Michel), Evita, South Pacific, The Addams Family, The Producers, JCS, White Christmas, Les Misérables. MD/Conductor: Cabaret, Les Misérables, Seussical, The King and I, Putnam Spelling Bee, First Date, Always...Patsy Cline, The Magic Flute. Pedro is also a musician, conductor, and composer. He also has a private studio. IMUA! @pedrokaawaloa pedrok.com

CELENA VERA MORGAN, she/her FIRST SEASON (u/s Aldonza) is over the moon to be making her Asolo Rep debut! Proud Paraguayan American based in NYC by way of Minnesota. Select credits: Into the Woods off- Broadway (Little Red), Sister Act (Sister Mary Robert), The Rocky Horror Show (Columbia). BFA in Musical Theatre, Ithaca College. celenaveramorgan.com Big thanks to FireStarter Entertainment. Love to Mom, Mimi, Nana-Banana, my family, and Ariel. For Dad, always.

ROBERT QUILES, he/him FIRST SEASON (u/s Sancho Panza, The Governor/The Innkeeper) is excited to be making his Asolo Rep debut! Past professional credits include Hunchback of Notre Dame (Ensemble). The Rev. Robert would like to thank his family (Mom, Dad, Sam, and Juli) for always supporting him. You can follow Robert on Instagram @Robertredpanda, and you can check out his website robertquiles.com.

*Members of Actors' Equity Association, the Union of Professional Actors and Stage Managers in the United States.

Sponsors