Angels and Directors' Society
Be part of the fabric of Asolo Rep
Our dedicated Angels keep the spotlight burning brightly on our entertaining productions and inspiring education programs each season. Get involved! We have multiple giving levels, each offering various donor benefits to become more involved in the work on and off our stages.
Our outstanding Directors' Society members set the stage each season for world-class theatre, made in Sarasota. Asolo Rep is proud to provide an artistic home for award-winning directors and artists to bring our theatrical works to life. As a Directors' Society member, you receive invitations to exclusive events to see firsthand how the Asolo Rep creative process works!
For more information on how to join today with a tax-deductible contribution, contact Foundations & Individual Giving Associate, John Anderson, at (941) 351-9010, ext.4705 or john_anderson@asolo.org.
Levels & Benefits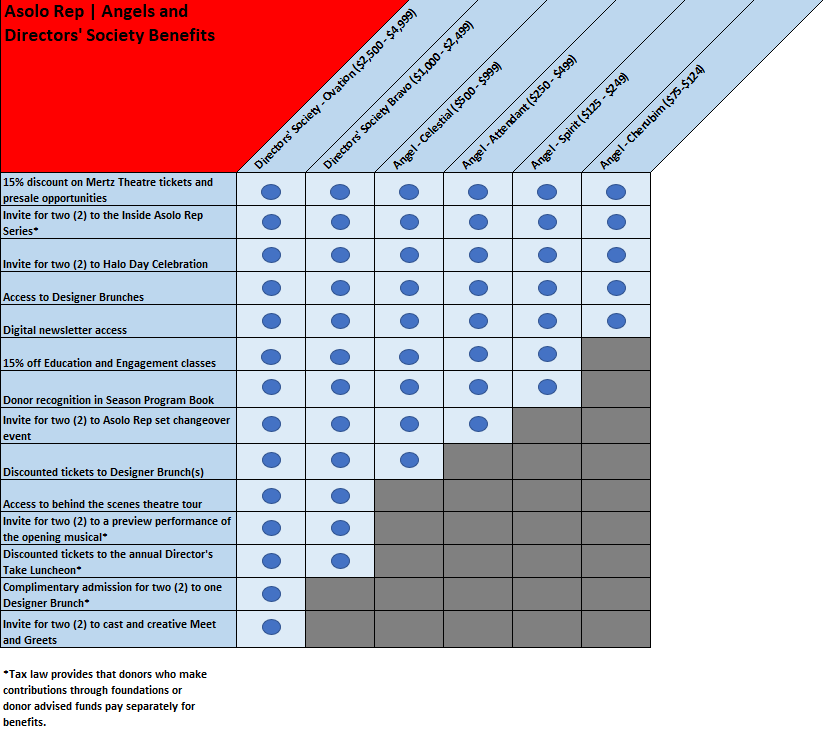 Guilded Angels Giving Program
Guilded Angels are "Angel" level donors to Asolo Rep who receive additional benefits and special opportunities to connect with productions and artists and to socialize with like-minded theatre supporters for their service to the organization.
CHERUBIM GUILDED ANGEL LEVEL ($75)
• Invitation to assist with cast and crew dinners (pending safety guidelines)
• Invitation to the Guilded Angels' luncheon
• Save on single tickets to Asolo Rep productions
• Free admission to Inside Asolo Rep
• Access to a backstage tour
• Invitation to the annual Halo Day
• Invitation to Production-Related Programming TBD (Designer Brunch, Invited Dress opportunities, etc)
• Special pricing for events
• Asolo Rep Around Town discounts
SPIRIT GUILDED ANGEL LEVEL ($125)
• All benefits at the Cherubim Guilded Angel Level, PLUS
• Special Program Book designation
• 15% off Education & Community Engagement classes
INVOLVEMENT OPPORTUNITIES FOR GUILDED ANGELS:
Opportunities for contributing time and expertise will be emailed from Guilded_Angels@asolo.org, which will be managed by Marketing. Responses will be linked through the email correspondence to go directly to the staff coordinator.
•Volunteering (Community Events, Student Programming, Extra Hands) - ALL DEPTS/AS NEEDED
•Cast & Crew Dinners ($5 admission plus potluck dish to share) – COMPANY MANAGMENT
•Asolo Rep Book Club (Curated reading list, Recurring meeting) - ARTISTIC / EDUCATION & ENGAGEMENT
•Guilded Angel Luncheon - DEVELOPMENT
HOW TO JOIN:
To join the Guilded Angels, donors should contact the Development office.
The Development office will lead all solicitation and recruitment efforts. In addition, they will issue a tax acknowledgement/welcome letter upon receipt of each donation and ensure proper recognition in the program book.
The Guilded Angels will remain an operating Committee of the Asolo Rep Board of Directors, with the Chair serving as an Ex-Officio member of the Board. There will be a vice-chair and committee as appointed by the President in consultation with the Guilded Angel Chair.