Asolo Rep proudly recognizes our Crystal Society members who, over the course of their lifetimes, have made extraordinary gifts or pledges of $1,000,000 or more for the Theatre's Annual Fund, Endowment and Capital Projects. Our Crystal Luminaries have made gifts of $5,000,000 or more. Members are listed in order of induction.
To learn more about becoming a member of the Crystal Society, please contact Angel Hissom, at 941-351-9010 x4706 or angel_hissom@asolo.org.
BEVERLY L. KOSKI
Since the 1960s, Asolo Rep has been a part of Bev's and her family's life in Sarasota. Access to this theatre has opened portals to the imagination and introduced cultural activities that have become lifelong passions. She and Bob would bring their children to performances in the "old" Asolo Theatre when it was housed at the Ringling Museum, and deepened their involvement as the theatre grew. Inspired by Bev's personal connection to the theatre, she and her family help to make new memories possible for today's patrons, young and old. The Robert and Beverly Koski Production Center is a testament to this family's ongoing support of Asolo Rep and its artistic and educational missions.
WILLIAM A. YANDOW in memoriam
Bill's involvement originated in 2008 when he began sponsoring "a special kid from Kuala Lumpur." He officially sponsored Ghafir Akbar, Kevin Stanfa, Benjamin Boucvalt, Tony Stopperan, Jesse Dornan, Zlatomir Moldovanski, Benjamin Williamson, Jory Murphy, and Josh James, and made eternal friendships with many other Conservatory students. Ever cognizant of the Conservatory and Theatre's mutually beneficial relationship—and the importance of supporting each—he expanded his giving to include marketing initiatives and a capital gift to help purchase artist housing, and he enthusiastically supported the Angels, Directors' Society, and Artistic Excellence Society. In December 2019 we dedicated the William A. Yandow Box Office in his honor. A round of applause to you, Bill, for encouraging the Theatre and Conservatory's artistic advancement and for the generosity and affection you have shown our young theatre artists!
---
Crystal Society Members
ESTHER M. MERTZ in memoriam
Esther M. Mertz was a most loyal and long-standing champion. Her support began in the early 1980s and a contribution in 1989 in memory of her husband made possible the installation of the Dunfermline Opera house, now named The Harold and Esther Mertz Theatre in their honor. In 2003, Mrs. Mertz provided a lead matching gift to the Asolo Theatre Endowment Fund. In 2004, she funded the search for Producing Artistic Director, Michael Donald Edwards, and in 2005, she shared in the cost of renovating the theatre's lobby. Beginning in 1993, she provided the FSU/Asolo Conservatory with endowed gifts that have historically supported up to five students each season and will continue to support students in the years to come. We miss you, Esther, and you will always be The First Lady of Asolo Rep.
ULLA R. SEARING in memoriam
Elegant and refined, Mrs. Ulla R. Searing graced Asolo Rep with her presence for more than four decades. A bold supporter of the arts and honored member of the Sarasota community, Mrs. Searing gave generously to our area's most prized arts organizations. Asolo Rep is deeply grateful for the bequest Mrs. Searing granted the theatre, and, in December 2019, participated in installing a plaque in her honor near the main entrance.Thank you, Mrs. Searing, for all you have done for Asolo Rep and for this community.
LEE AND BOB PETERSON in memoriam
Generous patrons of many Sarasota arts and service organizations, the Petersons always said, "Asolo Rep is the joy of our lives." Their enthusiasm for the groundbreaking work of the theatre under Michael Donald Edwards' leadership translated into their founding support of the Artistic Excellence Society. A bold matching challenge issued by the Petersons during Michael's first season led to an overwhelming response from board members, a true vote of confidence for the new Producing Artistic Director. Lee's vivacious chairmanship of many Asolo Rep events and Bob's steady hand as former Board Chair and co-chair of the Capital/Endowment Campaign meant so much to Asolo Rep over 24 seasons. We sadly miss their presence in the board room and on opening nights, but dearly cherish their memories.
JOAN ARMOUR MENDELL in memoriam
Joan leveraged her prolific poetic talents to support her beloved Asolo Rep: the proceeds from sales of her two published volumes of poetry were designated to benefit the theatre. A true aficionada of all the arts, Joan was a faithful and ardent member of nearly every opening night house, as well as an enthusiastic member of the Asolo Rep Adventures travel club. Her capital gift to name Asolo Rep's Joan Armour Mendell Scenic Studio was grandly celebrated in February 2012. Walt Whitman said, "To have great poets there must be great audiences," and in Joan, we were fortunate to have both.
MARGOT AND WARREN COVILLE in memoriam
When Margot and Warren moved to Sarasota in 1994, Artistic Director Howard Millman introduced them to Asolo Rep. The Covilles have since learned that the productions here rival anything they have ever seen on Broadway or the West End. Margot and Warren have been passionate and generous Graduate Student sponsors since 2004, and they have been inspirational philanthropic leaders for Asolo Rep and many other organizations. Past-president of the Asolo Rep board, Warren also served as the Chair of the Capital/Endowment Campaign for seven years, providing valuable leadership at its launch, guiding and growing the new endowment, and completing several key capital initiatives. Finding Sarasota a world-class city, the Covilles have worked for the last 25 years to improve its visibility and viability as a nexus for the arts. We are most grateful for their latest gift, a $1 Million matching challenge for the Staging Our Future Campaign. We will dearly miss Margot and we will cherish her memory.
MAURICE RICHARDS, in memoriam, and JACK KESLER, in memoriam
Maurie and Jack's immersive involvement in the Graduate Student Sponsorship program has opened many new opportunities for them in their retirement. "Watching the growth and development of our students' talents has enriched our lives beyond expectation. Being constantly energized and inspired brings a new dimension and meaning to being senior citizens." Recognizing the interdependence of the Theatre and the Conservatory, they have sculpted their estate plan to support not only student assistantships but also Conservatory needs and Asolo Rep programming. Maurie and Jack's philanthropy beautifully personifies the many facets of a Crystal!We will dearly miss Maurie's smiling presence at our opening nights and events, but we are grateful for his thoughtful planning to assure the theatre's future success.
ANONYMOUS in memoriam
A very generous member of our community chose to make this gift anonymously. Although we cannot display a photograph, we would like to paint a picture in your mind's eye. As a patron who enjoyed Asolo Rep performances for many years, this member of the Crystal Society made the first gift to qualify for the Endowment Matching Challenge in 2013 with a grand generous gesture in support of the Producing Artistic Director's position. Many thanks for your unstinting kindness that will sustain Asolo Rep for generations to come!

STANLEY KANE in memoriam, in honor of Janet Kane
A three-time board president, Stanley's vision and ardor helped the theatre survive and flourish through many challenges. In 1996, he brought his business know-how and strong community ties to bear to put Asolo Rep back on a path of fiscal health, and established a cash reserve campaign to insure financial stability into the future. Working with Florida State University and Sarasota Ballet, he helped turn the FSU Center for the Performing Arts into a vibrant, bursting-at-the-seams hub of creativity and excellence. In 2006, Stanley was instrumental in elevating the theatre's Heritage Society—honoring donors whose estate plans include a testamentary gift to Asolo Rep—and increasing awareness of the need to provide for the organization's future through deferred gifts. Stanley's passing in 2020 at the age of 100 marked the culmination of a life spent in selfless service, and he will be deeply missed by the entire community.
CHUCK & MARGIE BARANICK in memoriam
Chuck and Margie were strong supporters of Asolo Rep and its mission to bring the highest level of adult and family theatre to our community, while also engaging our local schools and students. Chuck served on the Asolo Rep board for eight years, and he and Margie enjoyed being part of an ever-increasing degree of professionalism in all of the Theatre's endeavors. Although we tragically lost this wonderful couple in December 2019, we will always remember and cherish their kind and warm presence, and continue to appreciate the many ways they supported Asolo Rep, and this community, during their lifetimes.
SHARON AND HERMAN FRANKEL
An Asolo Rep board member since 2006, Herman has been extremely active and generous as co-chairman of the Facilities Committee—negotiating, strategizing and supporting the decision to purchase and renovate the Robert and Beverly Koski Production Center, acquire thirteen apartments that comprise the Warren and Margot Coville Guest Artist Housing, and secure the Phillips Club residence in New York City. In 2016, the Frankels' gift made possible the acquisition of a much-needed adjunct facility, the Herman and Sharon Frankel Asolo Rep Annex. The Frankels share a deep commitment to Asolo Rep and a willingness to provide the passionate and financial support so necessary for the theatre to thrive. As Crystal Society members, Sharon and Herman's philanthropy shines through many facets of their beloved Asolo Rep!

LARRY AND DEBBIE HASPEL,
in memory of Dori Haspel
Originally from Northbrook, Illinois, Larry, Debbie and their family have always admired, enjoyed and participated in the performing arts. Since moving to Sarasota in 2009, they have been active philanthropists, serving in leadership positions across many organizations. As supporters of Asolo Rep's productions and education programs, they say, "For years, we have enjoyed the theatre, but we have never felt so connected with a performance as we do at Asolo Rep. This theatre provides a unique experience where the stimulating conversation that live performances provoke is heightened by our engagement with the actors." Larry and Debbie joined our Crystal Society in the 2017-2018 season with their second endowment gift, made in memory of their daughter Dori Haspel.
VIRGINIA B. TOULMIN, in memoriam
A keen businesswoman with a generous heart, Virginia was amongst our greatest friends and benefactors throughout her life in Sarasota. Upon graduating from Washington University, Virginia became a stewardess nurse on the B&O railroad. There she met her husband-to-be, patent attorney Harry Toulmin, Jr. Harry encouraged Virginia to apply her medical knowledge and Midwest common sense to his business ventures, including Central Pharmaceuticals. Virginia steered the company to tremendous growth, sowing the seeds of her philanthropic legacy. She helped many Sarasota cultural organizations become what they are today. In her 2006 Hall of Fame video, CVA remarked, "her unselfish spirit, gentle wisdom, and quiet generosity serve as an example for others to emulate." We were grateful to induct Virginia into our Crystal Society posthumously, celebrating her as a forever member of the Asolo Rep family.
EVA SLANE, in honor of Stephan Slane
Born in Germany to Austrian parents (her father was an opera singer, her mother, an actor), Eva arrived in America in 1939. As a NYC theatrical agent, Eva nurtured the careers of artists including James Earl Jones. In 1964, she married Stephan Slane, founder of the North Shore Music Theatre, once New England's largest not-for-profit theater. Eva follows her lifelong passion for theater and encouraging youth by serving on the boards of Westcoast Black Theatre Troupe and Asolo Rep. Her support of our partnership with the FSU/Asolo Conservatory has seen her sponsor 20 Graduate Students since 1998! Her generous and caring nature is treasured by everyone she meets. Eva joined the Crystal Society in 2018 by virtue of her annual gifts to Asolo Rep over many seasons, and her planned gift designated for student assistantships.
CHARLES HUISKING
Asolo Rep Board member Charlie Huisking is proud to support Asolo Rep and the FSU/Asolo Conservatory through both the Huisking Foundation and a fund at the Community Foundation of Sarasota County established by his late parents, Charles and Lillian (Pat) Huisking. "My parents loved Sarasota and the Asolo, and they started taking me to performances there in 1963, when I was in grade school," says Huisking. "This theatre has been an integral part of our family life. I know my parents would be proud to see what it has become under Michael Donald Edwards." We welcome Charlie into the Crystal Society this year based on his inclusion of Asolo Rep in his estate plan and a nearly 30-year history of annual contributions.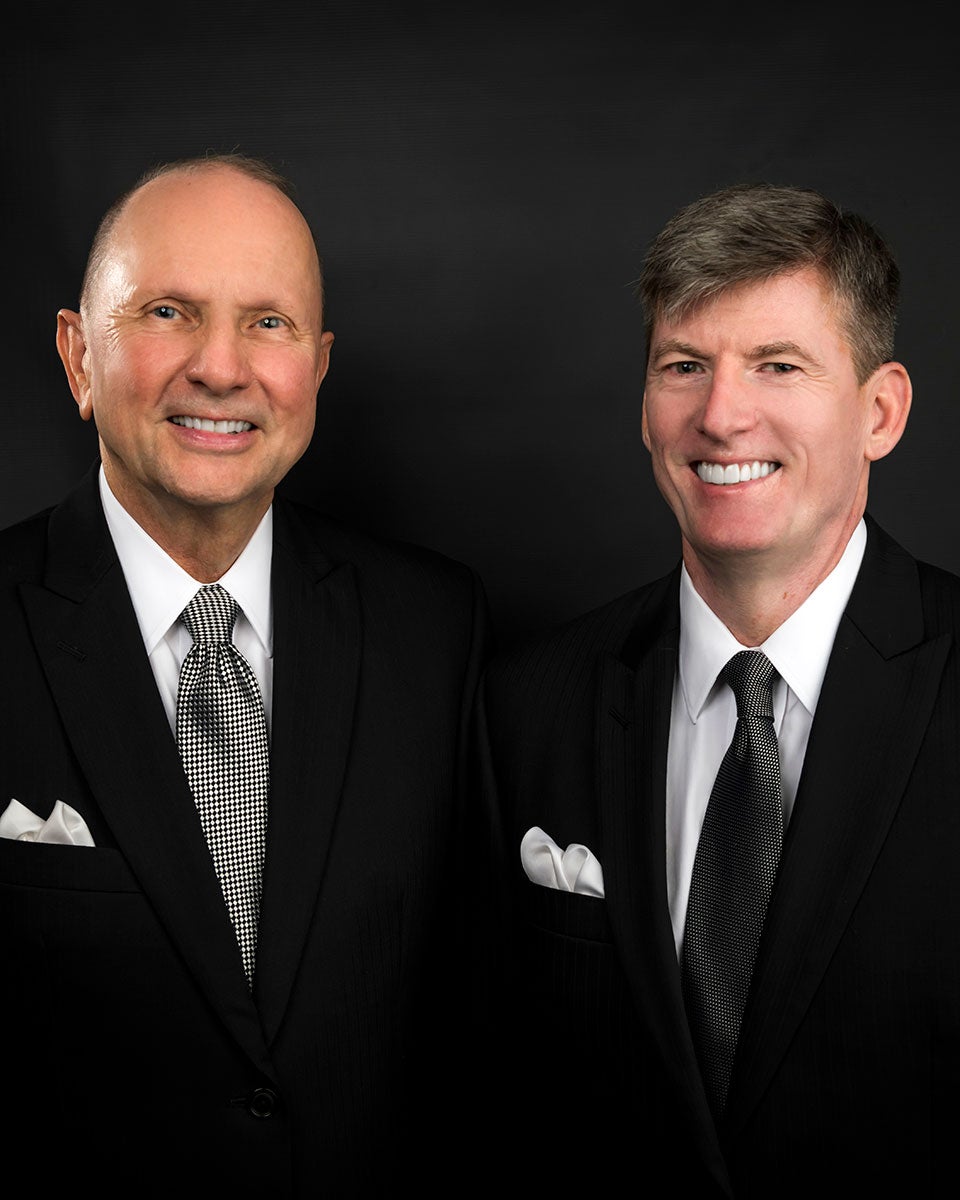 DR. RANDELL JOHNSON AND BOBBY JENSEN
Sarasota's performing arts scene and sophisticated culture lured Bobby and Randell here to buy their retirement home. They were arts patrons in Atlanta for two decades and have enjoyed their experiences with theatre in Sarasota. "We have found the quality at Asolo Rep to be comparable to performances found anywhere in the U.S., including on Broadway." Since their introduction to the FSU/Asolo Conservatory in 2006 and Asolo Rep in 2009, Bobby and Randell have created events to introduce the LGBTQ community to seasonal performances, and developed programs that encourage subscription support. Having traveled extensively with their work, they enjoy the way Asolo Rep creates for its patrons a cultural immersion through the playwright's words, the director's vision, and the actors' talents without ever leaving our great community. Now that they are spending more time in Sarasota, they delight in their sponsorship of the FSU/Asolo Conservatory student program, Artistic Excellence Society, and, this year, the Asolo Rep Sustainability Fund.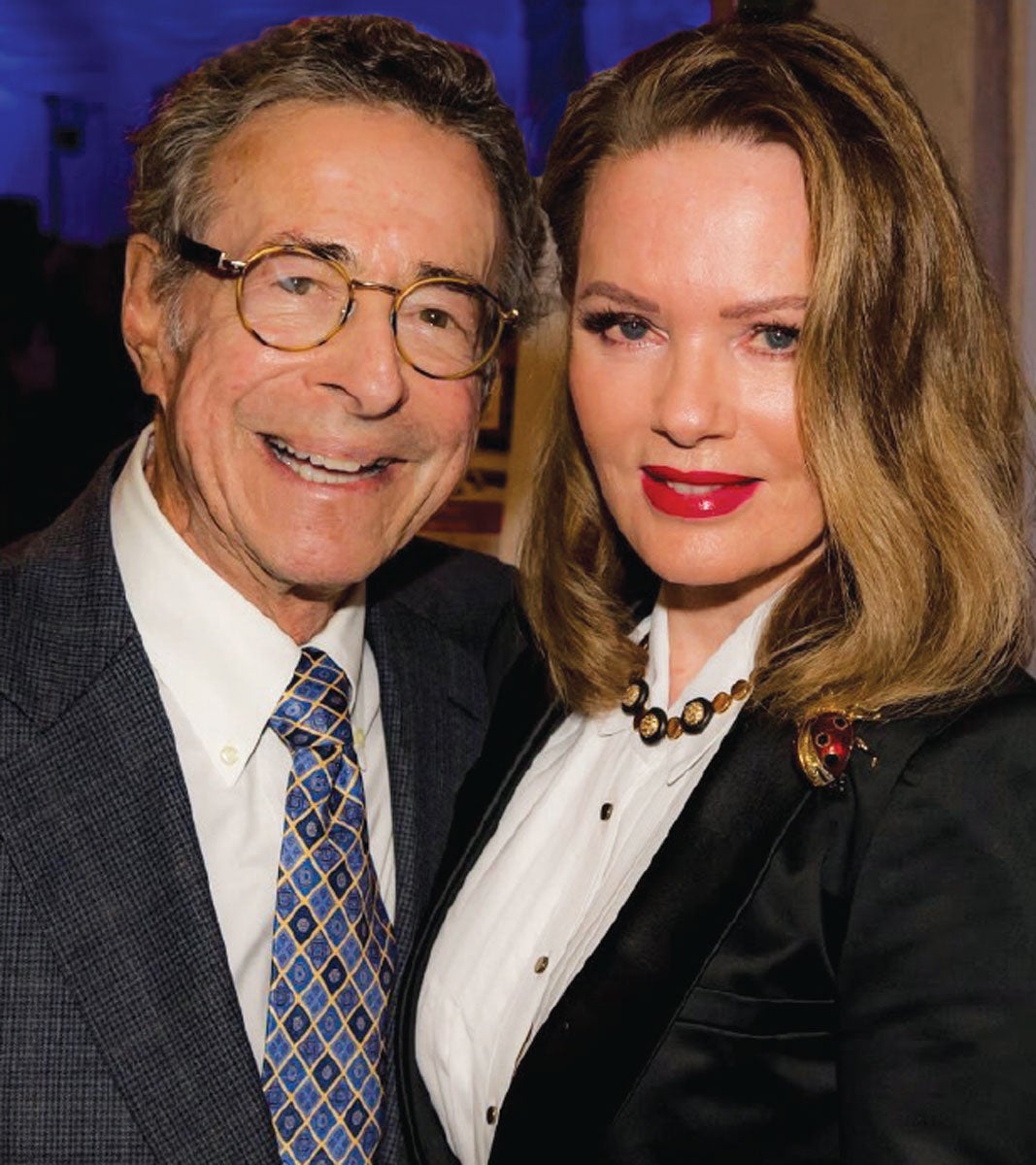 RON GREENBAUM, in memoriam, AND RITA GREENBAUM
Ron Greenbaum started his support of Asolo Rep as an Angel donor in 1986. Three years later he was writing letters to other donors to encourage them to become Co-Producers, a task he carried out for over thirty years as the Chair of the Board's Development Committee. After joining the Board in 1991, he served on the Executive Committee since 1999, and for three terms as Board Chair, from 2001-2003 and 2008-2009. With his wife, Rita, they hosted an annual appreciation party for Asolo Rep's major contributors for many years. They have supported the theatre's Education & Engagement programs, events, and championed the work Asolo Rep produces on its stages. In 2019, Asolo Rep welcomed Ron and Rita to the Crystal Society in grateful acknowledgement of their steadfast support over a long period of service to this organization. We will miss Ron's presence at our Opening Nights, special events, and especially in the board room, where his passion and commitment made such a difference towards the success of Asolo Rep.
GERI AND RON YONOVER
Geri and Ron Yonover joined the Crystal Society with a gift to the Staging Our Future Capital Campaign. Hailing from Chicago, they are great theatre lovers and have been involved over the years in the Broadway theatre world as producers. Geri and Ron appreciate not only the excellence of the final theatrical production the audience sees on stage, but also the months of preparation that go on before the curtain rises on opening night. Very fittingly, a rehearsal hall at the Robert and Beverly Koski Center will be named in their honor. Thank you, Geri and Ron, for supporting Asolo Rep's next big stride into the future!
CAROLE CROSBY
As a capstone to her two terms as Asolo Rep Board President, Carole Crosby joined the Crystal Society in Spring 2022 with a major gift, directed from the Ruby E. and Carole Crosby Family Foundation, to benefit the Career Development Program. Over the years, her gifts have often shown a keen insight into the theatre's real needs. For example, Carole funded the installation of the LED Monument sign in front of Asolo Rep's Herman and Sharon Frankel Annex, and her early gift to the Staging Our Future Campaign was celebrated with the naming of the "Crosby Hall" gathering space in the Annex. In 2014, in response to the Endowment Matching Challenge, Carole attained "Ruby" status to honor her mother and named the annual visiting musical artist chair in her memory. "To honor my mother's legacy and because of my personal connection to the arts, I now enthusiastically support these causes to the best of my ability."