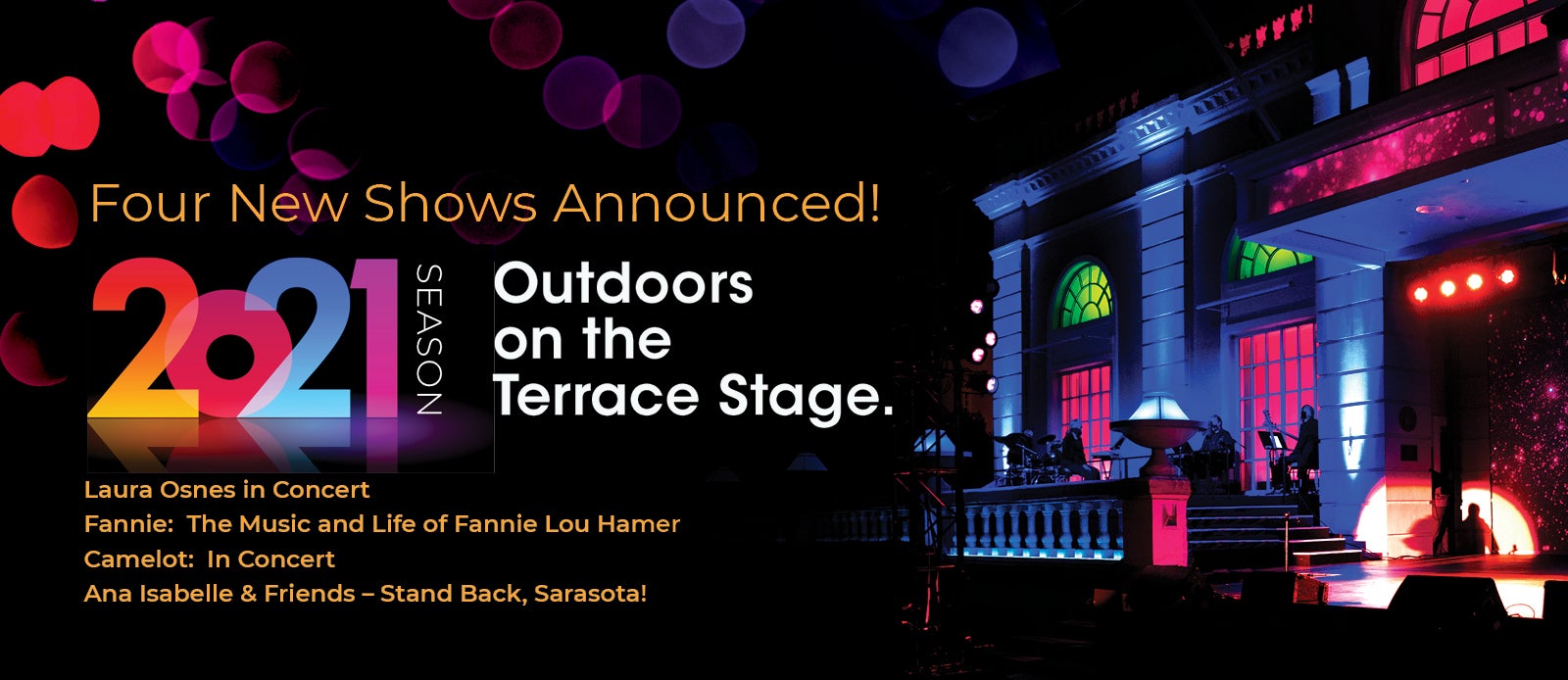 Asolo Repertory Theatre Proudly Announces 2021 Outdoor Season
Posted:
January
14
/ 2021
For artist photos, visit: https://asolorep.smugmug.com/Terrace-Stage-Season-Announcement/
(SARASOTA, FL) – On the heels of its wildly successful inaugural outdoor theatrical venture, We Need a Little Christmas, Asolo Repertory Theatre proudly announces its 2021 outdoor season. Performed in its newly constructed, socially-distanced outdoor venue Terrace Stage, located in front of the FSU Center for the Performing Arts, the four productions will be held February – April, 2021. Asolo Rep's top priority is the safety of its patrons, artists and staff. The outdoor season replaces the theatre's previously announced indoor 2020-21 productions of Our Town, Grand Horizons, Knoxville and Hood, which are now slated for the 2021-22 season.
"We Need a Little Christmas proved to us both that there is a hunger for live performance in our community and that we can do it safely," said Asolo Rep Producing Artistic Director Michael Donald Edwards. "We've unleashed the full range of our creative abilities to bring you a thrilling season with many familiar faces seen in a whole new way. Each show celebrates not only its own story but also our ability to come together and connect with one another in this moment when it is so urgently needed. From an undeniable civil rights leader to a mythical story of love and honor, live music binds these events together for an unforgettable season."
The season kicks off with Laura Osnes in Concert on February 5 and 6, with music direction by Fred Lassen. Ms. Osnes is a two-time Tony-nominated Broadway superstar known for her memorable performances as Cinderella in Rodgers + Hammerstein's Cinderella and Bonnie Parker in Bonnie & Clyde, a role she created in Asolo Rep's 2010 pre-Broadway run. Her other Broadway credits include Julia Trojan in Bandstand, Hope Harcourt in Anything Goes, Nellie Forbush in Lincoln Center Theater's South Pacific, and Sandy in Grease. She has performed in prestigious cabaret and symphony venues across the country and can currently be seen starring on television in three Hallmark channel original movies; In the Key of Love, A Homecoming for the Holidays and One Royal Holiday.
Asolo Rep continues its season in association with Goodman Theatre and Seattle Rep with the launch of a rolling world premiere of Cheryl L. West's provocative and poignant new play with a bright future: Fannie: The Music and Life of Fannie Lou Hamer. Originally commissioned and developed by Goodman Theatre and Seattle Rep, Fannie tells the impassioned story of American civil rights activist and hero, Fannie Lou Hamer. Running February 17 – March 3 and directed by Henry Godinez (Resident Artistic Associate at Goodman Theatre), Asolo Rep will start the "roll," followed by productions to be announced at Goodman Theatre and Seattle Rep. E. Faye Butler, who gave a tour-de-force performance as Queenie in Asolo Rep's 2013 production of Show Boat, will portray the title role in this deeply moving one-woman production.
From March 17 – April 1, Asolo Rep proudly presents a lush, intimate six-person concert version of Alan Jay Lerner and Frederick Loewe's timeless masterpiece Camelot. Directed by Asolo Rep Associate Artistic Director Celine Rosenthal, Lerner and Loewe's Camelot tells the classic, sweeping tale of King Arthur, Queen Guenevere and Sir Lancelot. Its celebrated Broadway premiere in 1960 starred Richard Burton, Julie Andrews and Robert Goulet, and was nominated for five Tony Awards, winning four. This fresh production features new orchestrations by Tony-nominee Steve Orich, who will also serve as music director, and will be performed with some dialogue and essential staging. Camelot is awaiting health and safety approval from Actors' Equity Association. Casting will be announced soon.
The final production, running April 15 – 24, will reunite some of the stars of Asolo Rep's box office record-breaking 2017 production of Evita. Ana Isabelle & Friends in Concert: Stand Back, Sarasota! stars internationally renowned actress and recording artist Ana Isabelle (Upcoming: Rosalia in Steven Spielberg and Tony Kushner's West Side Story), as well as world-renowned performers Junior Cervila and Guadalupe Garcia, who audiences will remember for their mesmerizing tango performance in Evita. The concert will be directed by Broadway's Josh Rhodes (Asolo Rep: The Sound of Music, Evita, Guys and Dolls, and more; Broadway: Bright Star, It Shoulda Been You, Rodgers + Hammerstein's Cinderella).
Subscribers for the 2020-21 season will have first access to tickets. Subscribers will receive an automatic credit for the value of their 2020-21 tickets, which can be used for the outdoor 2021 productions or applied to the 2021-22 season. Subscribers may also choose to donate these funds and receive a 100% tax-deductible receipt, or receive a refund for the value of their subscription.
Tickets for all four productions are on sale for subscribers only now. Subscribers will be emailed a link to purchase tickets.
Tickets for Laura Osnes in Concert and Fannie will go on sale to the general public on Tuesday, January 19 at 10am. Tickets for Camelot and Ana Isabelle & Friends will go on sale to the general public on Monday, February 8 at 10am and Monday, March 1 at 10am, respectively. Tickets are available online only at www.asolorep.org.
The outdoor concert series is underwritten by a generous $75,000 challenge gift by Drs. Joel and Gail Morganroth, who will serve as the Headline Sponsor. Also, Asolo Rep extends a special thanks to the Virginia B. Toulmin Foundation and the Linnie E. Dalbeck Memorial Foundation Trust for their additional support this season and underwriting this series.
Health and Safety Protocols
Asolo Rep Outdoor Performances
Following the guidance of government health officials, Asolo Rep has implemented several policies to help make your experience as smooth and safe as possible.
· Advanced ticket sales only, cut off is two hours prior to performance. No walk-up sales.
· Upon arrival at venue, patrons, staff and volunteers will receive no-contact infra-red temperature checks.
· Contactless Entry: print at home tickets can be printed or scanned from phone
· Masks are required to be worn over the nose and mouth by patrons, staff, and volunteers at all times when on the premises
· Concessions will not be available for purchase and food and drinks are not allowed in the seating area.
· Performances will have no intermission.
· Outdoor venue seats 250.
· Seats are arranged in socially distanced pairs and cannot be moved. Larger parties will be seated as close as safety protocols allow.
· No physical playbills; performance information will be projected on large screens, emailed to patrons, and available on Asolo Rep's website.
· Portable outdoor restrooms will be available.
· Patrons will not have access to the building.
· Hand sanitizing stations will be available throughout the venue.
· Prior to and following each performance, all seats and common areas will be disinfected with an electrostatic sprayer.
TICKETS
Tickets start at $25 for blanketed lawn seating. Patrons must bring their own blankets. Seated tickets start at $40.
Tickets for all four productions are on sale for subscribers only now. Subscribers will be emailed a link to purchase tickets.
Tickets for Laura Osnes in Concert and Fannie will go on sale to the general public on Tuesday, January 19 at 10am. Tickets for Camelot and Ana Isabelle & Friends will go on sale to the general public on Monday, February 8 at 10am and Monday, March 1 at 10am, respectively.
Tickets are on sale online only at www.asolorep.org.
To ensure the safety of all patrons, seating will be assigned to comply with Covid-19 safety protocols. You will receive an order confirmation immediately after purchasing and a second email containing your tickets within 48 hours of your purchase.
Tickets cannot be purchased in-person at the box office or by phone. If patrons have questions, they should email Patron Services at [email protected].
Patrons can print their tickets at home, have their tickets scanned on their phones or visit the box office tent to check-in.
Ticket sales will be cut off two hours prior to all performances. Walk-up tickets will not be available.
SUBSCRIBERS
Following our highly successful outdoor performances, we are thrilled to announce that we will bring you four more wonderful events on the Terrace Stage from February through April. However, in light of the continued concerns related to COVID-19 in our community, we are very much aware that staging indoor performances is neither feasible nor safe. To ensure the health and safety of our patrons, artists, and staff, we have made the difficult decision to postpone Our Town, Grand Horizons, Knoxville and Hood to the 2021-22 season.
• If you are holding tickets to these performances, either as part of a 6-Play or Flex subscription, we are automatically putting the value of those tickets on your account with us as a credit. (Please note that your 6-Play subscription seat locations for the Mertz Theatre are safe, and we will hold them for you for the 2021-22 season.) That credit can be used to purchase tickets to our upcoming outdoor season, or you can use those funds toward future purchases at Asolo Rep, including your 20-21 subscription renewal. If you would like those funds to remain on account, you do not need to do anything; they will be here waiting for you.
• Subscribers may also choose to donate the value of their tickets to Asolo Rep and receive a 100% tax-deductible receipt. Alternatively, you may request a refund for the value of your subscription tickets.
• Asolo Rep subscribers will be given first priority to purchase tickets for all four outdoor productions before they go on sale to the general public.
---
ABOUT ASOLO REP
Now in its 62nd season, Asolo Repertory Theatre is recognized as one of the premier professional theatres in America and one of the largest in the Southeastern United States. One of the few select theatres in the nation that performs in true rotating repertory, Asolo Rep's highly skilled acting company and extensive craftsmanship bring to life this unique performance method that gives audiences the opportunity to see multiple productions in the span of a few days. Asolo Rep presents up to 10 productions each season including contemporary and classic works and provocative musical theatre experiences. A theatre district in and of itself, Asolo Rep is committed to expanding its reach into the community, furthering its collaboration with the best theatre artists working in the industry today and cultivating new artists through its affiliation with the FSU/Asolo Conservatory for Actor Training. Under the leadership of Producing Artistic Director Michael Donald Edwards and Managing Director Linda DiGabriele, Asolo Rep's ambitious theatrical offerings and ground-breaking education and community programming engage audiences and ensure its lasting legacy for future generations.
ABOUT GOODMAN THEATRE
Chicago's theater since 1925, Goodman Theatre is a not-for-profit arts and community organization in the heart of the Loop, distinguished by the excellence and scope of its artistic programming and community engagement. Led by Artistic Director Robert Falls and Executive Director Roche Schulfer, the theater's artistic priorities include new play development (more than 150 world or American premieres), large scale musical theater works and reimagined classics. Artists and productions have earned two Pulitzer Prizes, 22 Tony Awards and more than 160 Jeff Awards, among other accolades. The Goodman is the first theater in the world to produce all 10 plays in August Wilson's "American Century Cycle." Its longtime annual holiday tradition A Christmas Carol, now in its fourth decade, has created a new generation of theatergoers in Chicago. The Goodman also frequently serves as a production and program partner with national and international companies and Chicago's Off-Loop theaters.
ABOUT SEATTLE REP
Seattle Rep puts theater at the heart of public life. Founded in 1963 and winner of the 1990 Tony Award for Outstanding Regional Theatre, Seattle Rep is currently led by Artistic Director Braden Abraham and Managing Director Jeffrey Herrmann. Over a season and throughout the year, Seattle Rep collaborates with extraordinary artists to create productions and programs that reflect and elevate the diverse cultures, perspectives, and life experiences of the Pacific Northwest. Seattle Rep's nationally recognized programs include the New Play Program, Seattle Rep's Public Works, the August Wilson Monologue Competition, Pay What You Choose ticketing options, and numerous audience enrichment and engagement opportunities including post-play panels, discussions, and community events and presentations.