IllumiNation explores the social, political, and cultural themes threaded throughout Asolo Rep's theatrical season. Join us as we examine issues of race, gender, identity, and cultural intersection.
Discuss art and activism while connecting with community—these dynamic community conversations invite all to the table and challenge us to reflect upon our past and present in hopes for a more inclusive future.
---
2021-22 IllumiNation Series
The 2021-22 season marks Asolo Rep's return to live, indoor performances! This season's four-show package includes these dynmic performances:
HAIR, Wednesday, Dec 8, 7:30pm
GRAND HORIZONS, Wednesday, Feb 2, 7:30pm
OUR TOWN, Saturday, Feb 26, 2pm
THE GREAT LEAP, Saturday, March 12, 2pm
Featuring a mix of evening and matinee performances, the IllumiNation package includes a ticket to each performance, a pre-show reception, and a currated post-performance discussion.*
In addition to engaging community conversations, this package saves 25% off* the regular ticket price. That's like getting four shows for the price of three! Packages range from $99 to $250 based on seating location.
*All events are subject to change based on COVID safety protocols. Not applicable to prior sales. Cannot be combined with any other offer. Capacity is limited.
---
PREVIOUS EVENTS:
Fannie Lou Hamer: Movement Maker

When:
Community Conversation: February 25th at 7:30pm via Zoom--THIS EVENT HAS ALREADY OCCURRED
IllumiNation Night for Fannie: February 24th. (LIVE performance at Asolo Rep's outdoor Terrace Stage)
Featuring:
Cheryl L. West, Playwright of FANNIE: THE MUSIC AND LIFE OF FANNIE LOU HAMER
Victor McTeer, Celebrated Civil Rights Attorney, Pioneer, and Activist
L'Tanya Evans (Event Facilitator), Educator, Administrator and Artist
MEET CHERYL L. WEST

Cheryl L. West's plays have been produced in England, off-Broadway, on Broadway and in numerous regional theaters around the country. She has written TV and film projects at Disney, Paramount, MTV Films, Showtime, HBO, CBS, and BET. She is working on commissions for Seattle Rep, Oregon Shakespeare Festival, La Jolla Playhouse, Minneapolis Children's Theatre, and the Goodman Theatre. A special acknowledgement to Mr. Charles McLaurin, Ms. Fannie Lou Hamer's campaign manager and right hand man. His words and insight regarding Ms. Hamer were immeasurable during the development of this work. www.cheryllwest.com

MEET VICTOR MCTEER

In the Spring of 1973, Victor McTeer, an unknown 24-year-old lawyer from Baltimore, Maryland, called Mrs. Fannie Lou Hamer at her Ruleville, Mississippi home to ask the world-renown civil rights activist to testify as an "expert witness" in a complicated federal court case. Only six months before, the young man graduated from Rutgers Law School, and moved to Mississippi to fulfill a dream of becoming a Mississippi civil rights lawyer. Within weeks of being admitted to the Bar, he filed a lawsuit on behalf of Katie Mae Andrews, a black woman fired from a teaching job by a white school superintendent who discovered that she bore a child out of wedlock while a teenage girl. Miss Andrews' claim against the Drew Municipal Separate Schools was a case raising issues of privacy, race, and constitutional law that no court had ever ruled upon in American Jurisprudence. In response to the complaint, the federal court judge hearing the matter, Honorable William C. Keady, took the unusual action of fast-tracking the case for a speedy trial on the merits. Judge Keady also demanded the parties produce qualified expert witnesses to assess the facts and provide opinions regarding the rational basis for the rule if any.

Within a few weeks, both sides had employed some of the Nation's leading educational experts to testify in the case. But Victor was frustrated that he had not found a female expert willing and able to articulate the harsh impact the rule would have upon impoverished women of color in the Mississippi Delta. Poor women lacked primary prenatal health care or instruction and options for birth control or abortion. Hence, the rule would always fall more harshly upon those victims of endemic poverty. He had no female to make the argument to Judge Keady forcefully. The issue soon came to a head during a heated debate among the legal team members representing Miss Andrews only a few weeks before trial. It all started when someone commented in frustration that they wished they could call Fannie Lou to testify as an expert. In an instant, the silence that followed told each of us that we had our witness. No one was better suited to testify on behalf of women than Fannie Lou Hamer. The next day, Victor met with Mrs. Hamer and her husband, "Pap," at their home in Ruleville, Mississippi. Mrs. Hamer agreed that she would testify on behalf of Miss Andrews and all the women, black and white, who could fall victim to Dr. Petty's rule. In the trial that followed, Mrs. Hamer did not disappoint.

Fannie Lou Hamer eventually testified under oath as a judicially certified expert in a courtroom appearance outlined in detail by writer Kay Mills in her award-winning biography of Mrs. Hamer, This Little Light of Mine, The Life of Fannie Lou Hamer, The University Press of Kentucky, (2007). With Mrs. Hamer's help and the assistance of a diverse team of lawyers and experts from across the country led by a youthful band of young black lawyers from the Mississippi, Katie Mae Andrews eventually won her first-of-a-kind case in the United States Supreme Court. Today, Victor McTeer is a 72-year-old resident of Sarasota, Florida. He enjoys his retirement and remains ever thankful that he could represent such tigerish women as Katie Mae Andrews and Fannie Lou

MEET L'TANYA EVANS

L'TANYA EVANS is a career educator for nearly 40 years, working with students from pre-kindergarten through college. Evans spent 17 years at The Out-of-Door Academy in Sarasota, Florida, where during her tenure, she served as a middle and upper school Humanities teacher, Head of the English and Visual and Performing Arts Departments, Theater Director, and Associate Head of School for Academic Affairs. Evans earned her Bachelor of Arts degree from Chatham College in Pittsburgh, Pennsylvania, and her Master of Arts in Liberal Studies from Northwestern University in Evanston, Illinois, where she wrote her thesis on the impact of African American Women and the Voting Rights Movement. She is an active member of The National Association of Independent Schools (NAIS), serving as co-chair of NAIS's annual People of Color Conference here in Tampa in 2015. A life-long learner, Evans is an advocate for the arts, serving on the Board of Directors at the Asolo Repertory Theatre, and believes that art is the elixir that can heal the world. Further, she is steadfast in her belief that faculty development and student-centered learning are essential to education. Evans is committed to Academy Prep Center of Tampa, an independent college preparatory middle school for low-income students, and its mission, where she has been Head of School since 2019.
About the Community Conversation
Fannie Lou Hamer was a force of nature, a people connector, and a movement maker. In this digital conversation, participants will discuss how her work impacts our world and influences the Movement Makers of the world today, in Sarasota and across the nation.
This conversation will be held via Zoom.
About Fannie:
Part theatre, part revivial, and all power -- this one woman show with music will have your head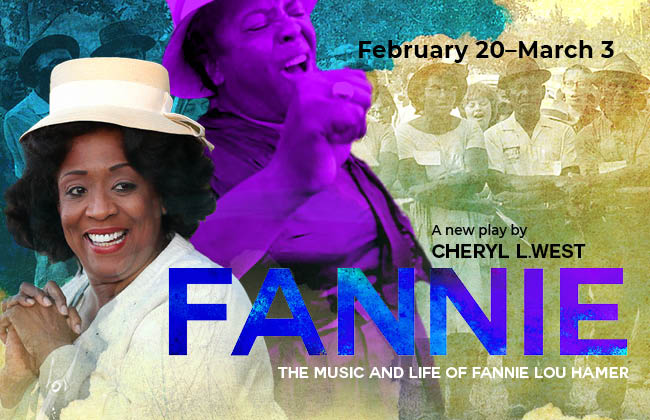 nodding and hands clapping from start to finish. Written by award-winning playwright Cheryl West and brought to life by powerhouse performer E. Faye Butler, Fannie tells the story of Civil Rights icon Fannie Lou Hamer. From her humble origins as the daughter of a Mississippi share-cropper, through getting involved with the Student Non-Violent Coordinating Committee, to co-founding the Mississippi Freedom Democratic Party and demanding recognition at the National Democratic Convention hers is a story of justice that will not be denied. Infused throughout with rousing spirituals and hymns, our production is helmed by Goodman Theatre Artistic Associate Henry Godinez.
---
James Baldwin NOW

When:
Community Conversation: March 25th at 7:30pm via Zoom
Featuring:
TY GREENWOOD

The work of playwright Ty Greenwood, focuses on telling stories that are not damaging to the identity, existence and bodies of Black people, but are rather empowering, unapologetic and radical in nature. He holds a B.A. in Communication Arts with an emphasis in Rhetoric and Honors in Theatre from Washington & Jefferson College '17 and a Master of Fine Arts degree from Carnegie Mellon University '20, in Dramatic Writing. Ty's recent work Nigga, Digress (CMU '19) & Death Dream (KST) were both choreopoetic expressions of the black experience. Nigga Digress, presented at City Theatre's Hamburg Theater November 15, 16 & 19 (2019), explores the trauma Black bodies face in predominately white spaces and the mental exhaustion that comes along with it. Death Dream , a meditation on WEB Dubois "double consciousness" theory , serves as a PSA, that Black men are not valued and need to talk about mental health in the Black community even if it's taboo. Currently, Death Dream is a part of Kelly Strayhorn's Freshworks Series postponed until further notice.

In 2013, Greenwood landed a four-year scholarship/apprenticeship with KDKA TV- News Pittsburgh where he wrote anchor packages and helped produce the "Pittsburgh Today Live Show," through the Emma Bowen Foundation, an organization that places college students with a corporate sponsor, with a goal of promoting diversity in the media. In 2016, his short film "Fuzzy on the Details" was entered into the British Film Festival. The same year he also received the "Ubuntu" Emma Award through the Emma Bowen Foundation for his sense of community, promotion of diversity and togetherness in his work, at Washington & Jefferson College and the media. He has presented his short play, "NOT A FAIRY TALE" and research "Protecting our Black Men: Black Masculinity and the use of the Black Body in "For Black Boys Who Have Considered Homicide…" at the Mid-America Theatre Conference '18. He developed and had a staged reading of his full length choreopoem play, "DEATH DREAM" at Alumni Theatre Company '19. Recently, he participated in City Theatre's 2019 Momentum Festival: New Plays at Different Stages where he presented an excerpt of "Untitled Thesis Play" as part of the "In Their Own Voices" event.

GALE FULTON ROSS

For over fifty years Gale Fulton Ross has made an impression on the world with her expansive skills as an artist. Her career ambitions formed at an early age under the influence of her father, a pioneer in the nascent days of industrial design who inspired her with his concept of the Cadillac "fin". "My father worked as a body and fender man for a small Cadillac and Oldsmobile dealership in Malden, Massachusetts," Fulton Ross writes. "His job was to knock the dents out of people's vehicles and repair the damage. He was not a designer for the company but he was a frustrated artist. I was seven when he brought home a beat-up Oldsmobile and an equally beat-up Cadillac. He combined them into one car, a white Cadillac convertible with the grille from the Oldsmobile and fitted it with outrageously deliberate pointed fins in the back."

Her innate artistic talent won awards in high school and placement in art college. Thereafter she embarked on a career path that has taken her throughout Europe, Africa, Asia, and the United States, during which she developed her skills under the mentorship of established artists such as Pierre Parsus of France and Cleveland Bellow of California. Along the way she has established studios in New York, Florida and, most recently, California.

Back at home, her renown has quietly expanded and her works can now be seen in museums, universities, and private collections around the country. As she has developed into a master, she has also been an active supporter of the arts, an art educator, the creator of an art foundation dedicated to developing young artists, and the winner of a major Public Art contract for her work in sculpture.

Fulton Ross creates from within, driven by the emotions borne of many diverse cultural experiences; she is a passionate voice of the Black experience in America. Her prolific body of work reflects both the abstract and the figurative.

She currently works from a studio in Camarillo, California, where she is creating a traveling exhibition dedicated to friendship and community. The project consists of 300 hand-painted portraits.

DR. JAMES STEWART

Dr. James B. Stewart is a Professor Emeritus at Penn State University. He previously served as Vice Provost for Educational Equity and Director of the Black Studies Program. As Vice Provost he was responsible for planning, developing, coordinating, articulating, and advocating the University's goals, policies, and procedures pertaining to diversity, equity, and inclusion. He has served as a consultant for many universities and the Department of Defense. Stewart has authored, co-authored, edited or co-edited thirteen monographs, including Introduction to African American Studies, Transdisciplinary Approaches and Implications. He has served as President of three national professional organizations including the Association for the Study of African American Life and History (ASALH). Stewart is the past president of the Manasota Branch of ASALH and a board member of several Sarasota-area non-profit organizations. He is also a member of the Board of Trustees of the New College of Florida.
About the Community Conversation
From the HBO series Lovecraft Country to Begin Again: James Baldwin's America and its urgent lessons for Our Own, the recent deep dive into his literary works by Eddie S. Glaude Jr., James Baldwin remains a frequent cultural touchstone in America. What does this complicated, witty, immensely perceptive, and above all brilliant thought leader mean to us in our hyper local community of Sarasota, Florida?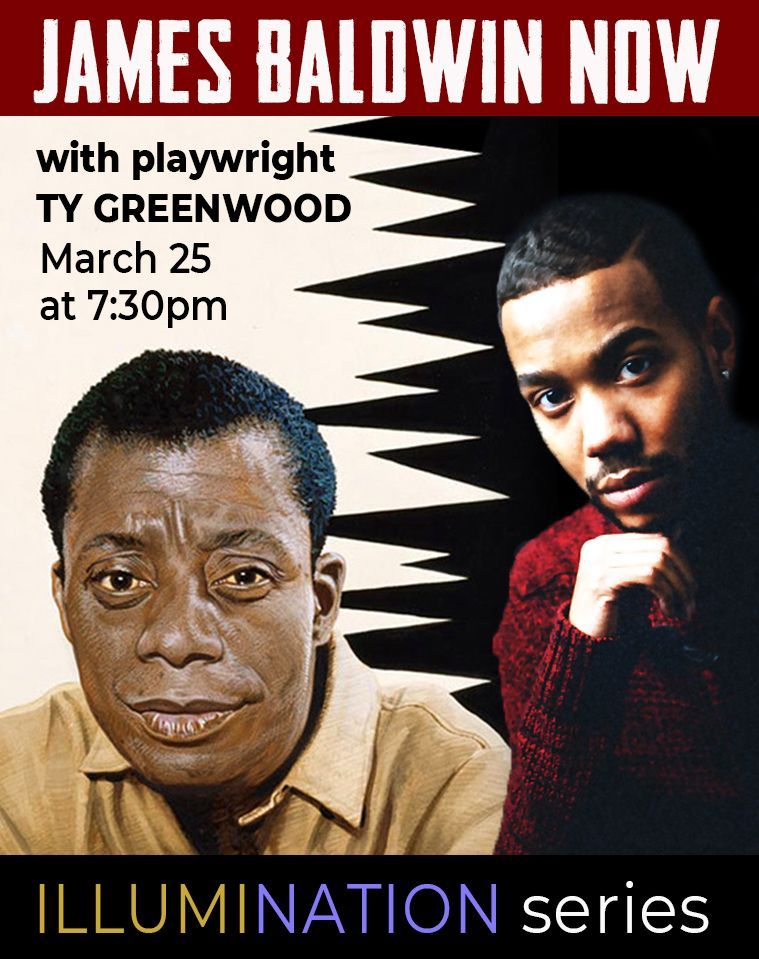 Inspired by his legacy, Asolo Rep has commissioned playwright Ty Greenwood to create a play that responds in some way to James Baldwin's life, works, and legacy. Of his ambitions for the project, Ty said his "goal is to capture the timeless essence of James Baldwin's language and philosophy on race, sexuality and politics when it comes to being Black in America" and "…to deliver a sense of hope and more importantly joy within the conversation of the Black experience." In this conversation, we are joined by the playwright to discuss this question in the midst of his creative process. In addition, we will hear from Dr. James Stewart and Gale Fulton Ross to bring personal and historical context to the impact of James Baldwin's life and work today.
This conversation will be held via Zoom.
---
The Elaborate Entrance of Chad Deity:
Wrestling with America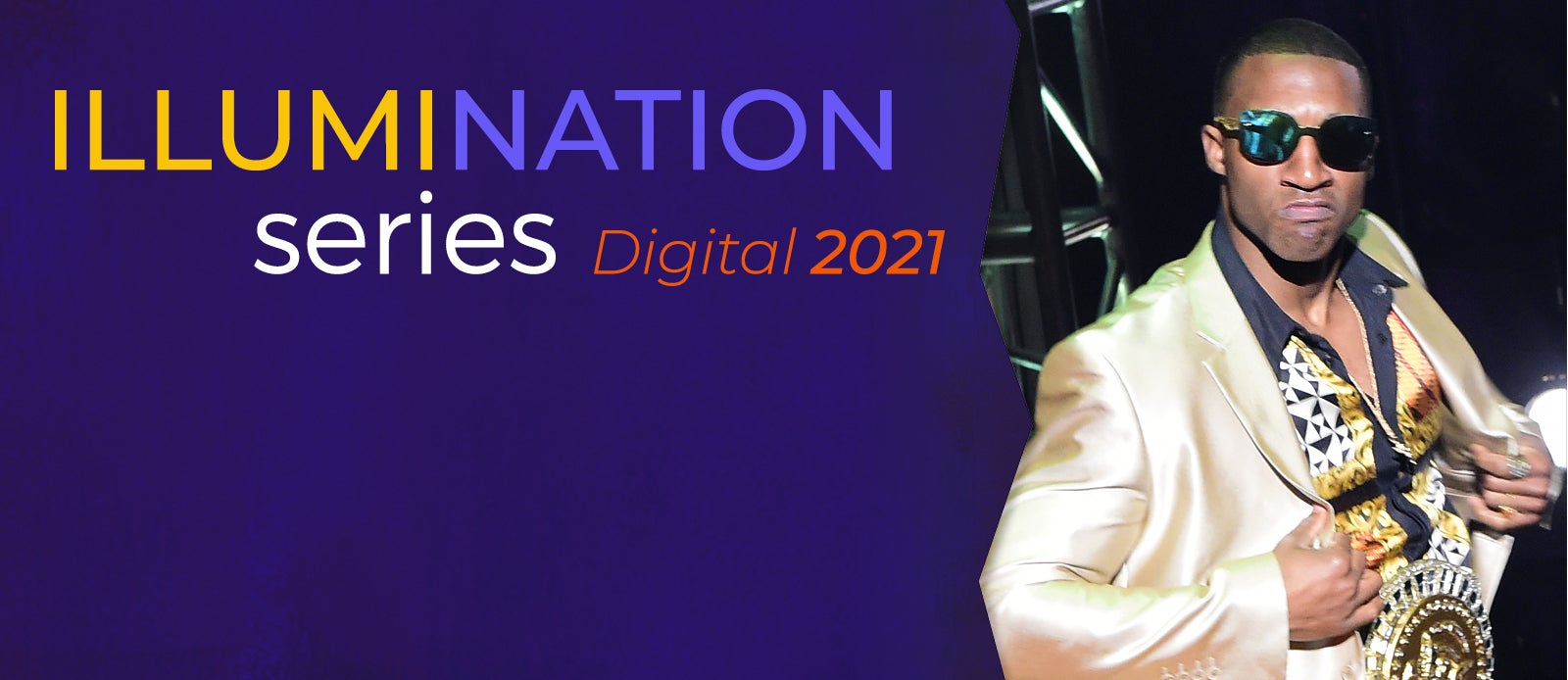 When: Community Conversation: April 22nd at 7:30pm via Zoom
About the Event:
Join us for our final IllumiNation Digital Event of the season, as we look at Asolo Rep's 2018 production of Kristoffer Diaz's THE ELABORATE ENTRANCE OF CHAD DIETY in a brand new light.
This explosive play, which was a Pulitzer Prize finalist in 2010, examines justice, fairness, and race in America, through the lens of professional wrestling. Your registration gives you access to a pre-recorded conversation with the cast, as they reunited to reflect on this production and its particular relevance in the highly-charged sociopolitical landscape of 2021.
About The Elaborate Entrance of Chad Deity:
"Pick em up, power bomb em, pin em," is THE Wrestling champion, Chad Deity's only wrestling move. But "partner" and perpetual underdog Macedonia Guerra sees it with so much more nuance. To Mace, wrestling is a metaphor in motion, the most perfect art, a vehicle for delivering compelling stories like no other. So why does the system give Chad Deity the championship belt? Mix in smooth talking, fast thinking Brooklynite Vigneshwar Paduar and Mace may stand a chance to fix this injustice. But he'll still have to answer the question: was it worth it? Kristoffer Diaz's provocative, hilarious, and athletic play is a no-holds-barred, knock down drag out, flat out beautiful illustration of the questions at the heart of our America.
All IllumiNation Digital Events Include:

Access to Videos, Articles, and other digital resources.
Community Conversation via Zoom.

Each Community Conversation includes a Speaker, guided breakout sessions where you can converse and connect, and community reflection.
---
2021 IllumiNation Committee
| | |
| --- | --- |
| Mary Braxton-Joseph, Chair | Tomeika Hunter-Koski |
| L'Tanya Evans, Vice Chair | Kelly Kirschner |
| Peggy Abt | Sophia LaRusso |
| Nancy Boxill-Thompson | Lucie Lapovsky |
| Terry Brackett | Enid Marshall |
| Brenda Brown | Audrey Robbins |
| Carole Crosby, Board President | Chet Thompson |
| Kathleen France | Marysue Wechsler |
| Charlie Huisking | Mary Lou Winnick |
| | |
---
IllumiNation Series is made possible, in part, with support from