Our touring productions welcome and inspire audiences of every level of experience to the wonderful possibilities contained within classic plays.
ASOLO REPERTORY THEATRE presents an FSU/Asolo Conservatory for Actor Training Production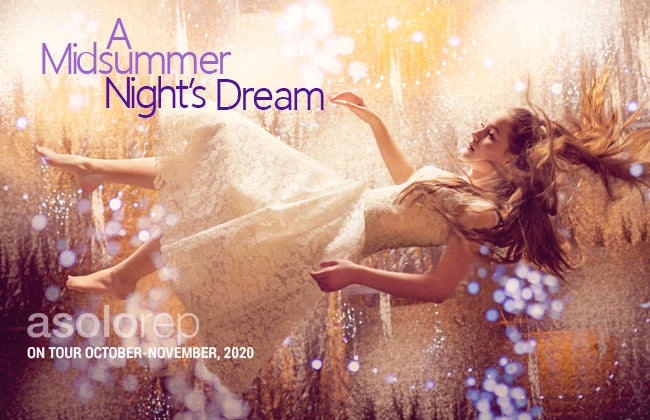 A Midsummer Night's Dream
By William Shakespeare
Adapted by Celine Rosenthal
Directed by: Kelly Galvin
One of Shakespeare's most celebrated comedies, A Midsummer Night's Dream, uncovers a world of magic just outside the city limits and just inside the human heart. Helena loves Demetrius, Demetrius is after Hermia, and Hermia only has eyes for Lysander. A "secret" plot to elope propels all four lovers into the forest outside Athens where their bonds are further tangled by the magical machinations of the fairy world. The fairy king is having a lover's spat with the fairy queen, and enlists Puck to exact vengeance. Blissfully unaware of all this as they rehearse in the same forest, a group of tinkerers aspire to what will surely by an artistic triumph, if only they could get their ego fueled leading man to let anyone else play a role. What could possibly go wrong? Add a triple marriage, a hilarious play-within-a-play, and a magical flower and you have a perfect storm of comedy. In a compact adaptation, this tale of freshly minted love is sure to speak to the experiences of young audiences across Florida and inspire them to dream of a world where Shakespeare is for them too.
---
What is Asolo Rep On Tour?
Presented by Asolo Rep and the FSU/Asolo Conservatory for Actor Training, the Asolo Rep On Tour brings exciting 45-minute adaptations of classic literature to schools and community venues throughout the state of Florida. Classic literature comes alive through energetic contemporary staging, clever design, and dynamic performances by the third-year MFA Acting Graduate class of the FSU/Asolo Conservatory.
Each performance includes a curated conversation with the cast, allowing the audience to dive deeper into the story, the themes, and the art of theatre.
Why bring Asolo Rep On Tour into your community?
Asolo Rep On Tour is an accessible introduction to live performance for first-time audiences, but the imaginative and theatrical staging will also delight and inspire seasoned theatre-goers. We hope to welcome and inspire audiences at every level of experience through the wonderful possibilities contained within classic plays.
For Students: Asolo Rep On Tour is a cultural arts experience designed for students and brought to students. Students witness stories on the stage that reflect their own lives, and are given the tools to reflect, analyze, and learn.
For Educators: These performances are curriculum focused arts engagement that supports multiple core subjects, and provides opportunities for educators to have fun and exciting professional development.
For Communities: Asolo Rep On Tour is a fully-realized production that is cleverly designed to adapt to different venues, allowing the arts to come to your community and connect with your patrons.
Who Should See This Production?
Asolo Rep On Tour is accessible for most audiences, but is designed with a student or community audience in mind.
Recommended for grades 6 and up.
Designed to be most successful in schools, universities, and community groups/organizations/centers.
How are the Asolo Rep On Tour performances structured?
Fully-realized, professional production, designed to fit in any community.
45-minute, fast-paced performance, immediately followed by 15-minute post-show discussion with the cast.
Professionally staged with a small cast (7-12 + stage manager).
Designed with minimal technical requirements to be adaptable to a variety of venues.
The show is framed to connect with the audience and reflect the fun and excitement of live theatre.
Are there resources that come with this production?
Asolo Rep provides content guide, production guide, and video resources that include information about the production, story, history, and themes as well as curriculum that can be used in the classroom and beyond.
Educator Professional Development will be available in Fall 2020, more details to come.
In addition, Asolo Rep provides specific digital marketing materials that venues can use to promote the performance to their community.
To access Asolo Rep's Classroom Connections, please go HERE
How do I see an Asolo Rep On Tour production?
Book the Tour:
We'll come to you!
Public Performances:
Each tour season there are Public Performances that are available. Those will be listed here. You will have to go through the venue to reserve tickets; the website for each venue is below.
---
Contact Us
For more information contact:
Asolo Rep Education & Engagment
941.351.9010 ext. 3325
[email protected]
---
Asolo Rep On Tour is made possible, in part, with support from