What a challenging and isolating journey we have all been on here at Asolo Rep and in our community. At last, after this great test of our common humanity that the pandemic represents, we are finally gathering inside our beloved theatre. We have chosen a series of stories that insist on the central importance of the live theatre as a source of true human empathy and radical kindness.
Our 2021-22 season is cause for jubilation! The musicals and plays you will see are brilliantly crafted by some of the most celebrated artists working in the American Theatre today.
Our timeless and modern version of Hair resonates in unexpected and contemporary ways but retains its core message of joy and love. You will also be moved, stimulated, and wildly entertained by a mix of classic and contemporary plays helmed by four gifted female directors. And, of course, we're thrilled to finally bring to the Mertz stage the long-awaited world premiere of Knoxville, from the creative team of Ragtime, along with the new musical Hood.
Thank you for joining us on this incredible journey. Let's experience the magic and joy of live theatre once again. The intermission is over!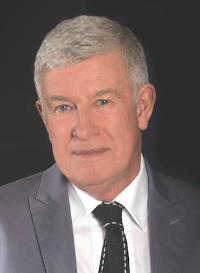 Michael Donald Edwards
Producing Artistic Director